Invasion North Carolina?
Many of us who participated on Armed Drill Team in ROTC remember more then a few funny stories. This one comes from the NJROTC Unit at Charlette High School, North Carolina.
Police Beat is a local Charlotte County column which publishes recently arrests and police reports. A NJROTC unit was recently mentioned.
From Police Beat, in the Our Town section of the Charlotte Sun Herald, Sunday, Febrary 2, 1997 edition.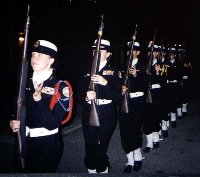 No cause for alarm
Reports the city's waterfront has been overtaken by a rifle brigade are grossly exaggerated, but a resident may have thought this was happening Friday afternoon.
An anonymous telephone call reached Punta Gorda Police to report "about six kids at Gilchrist Park had rifles." The officer dispatched to investigate wrote in part in the report:
"Upon arrival I met with the apparent leader..."
The group was the female ROTC drill team of Charlotte High School. Their drill commander, 16-year old Dusty Casey, told the officer they were just praticing for a competition.
To allay all fears, the officer added to his report:
"The drill team uses rifles that have been rendered inert by cutting the barrels (along) its length and either filling the barrel with lead or welding it."
Like many high schools, Charlotte High has a Junior Reserve Officer Training Corps were students learn responsibility and leadership, in addition to some military training.